25 years of We're Going on a Bear Hunt
We're Going on a Bear Hunt, the classic chant-aloud by Michael Rosen and Helen Oxenbury, started a publishing phenomenon 25 years ago. We're celebrating 25 years of Swishy Swashy, Splash Splosh and Hooo Wooo, with a year of bear hunting.
"We first published We're Going on a Bear Hunt in 1989; so it must have been in 1987, or even earlier, that I first heard the mighty sound of Michael Rosen performing the piece, accompanied by 100+ children in a classroom in London. What excited me at once was the togetherness, the joyful way the children joined in, roaring the lines. What a beautiful day! We're not scared. It sounded rehearsed; but no, joining in with Michael on Bear Hunt was irresistible from the beginning.
So over the next two years we turned the words into a book, quietly and carefully, with Helen Oxenbury painting her wonderful pictures, and art direction by Amelia Edwards. The pages waited patiently for the hunt and the chanting to begin. Then time after time, generation after generation, once more – WHAT'S THAT? – another family bumped into the bear and the great chase was on. For all the wild rushing and shouting, the book, like all classics, became utterly dependable. We can't go over it. We can't go under it. Oh no! We've got to go through it!
Or rather, oh yes! How brilliant that a book can plot a path through childhood as happily (and noisily) as this!"
David Lloyd, Editor at Large, Walker Books
What others say about We're Going on a Bear Hunt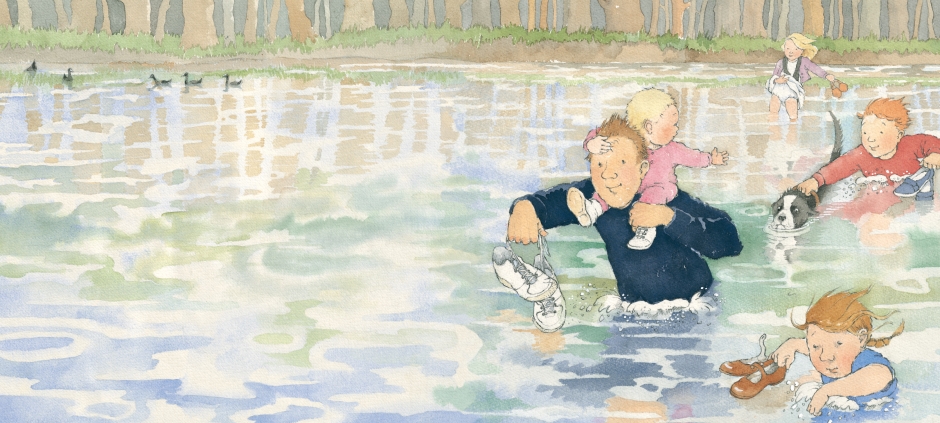 How it all began
Michael Rosen on the making of We're Going on a Bear Hunt
Transcript: Michael Rosen on making We're Going on a Bear Hunt
25 Years of We're Going on a Bear Hunt
Transcript: 25 Years of We're Going on a Bear Hunt
 More to explore
Michael Rosen and Helen Oxenbury explain how they made We're Going on a Bear Hunt on the guardian.com